Veur dat de Romeinen in 57 veur Christus Gallië hiêlemaal onder de voet liepe, ware onze streke bevolkt deur de Au Belge (Oude Belgen) of in het latijn de "Belgae", zoals die deur Julius Caesar (in zannen boek Commentarii de bello Gallico [1] ) wiêre genoemd.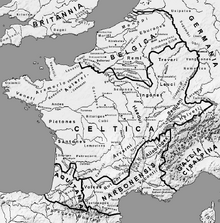 de Keltische stammen van Belgica (Noord-Gallië of Germania Inferior) bewoênden'et gebied tussen de Noordziê, de Rijn, de Seine en de Marne.
Een aantal stammen van de Belgae (zoals de Atrebati) woênden oêk in Britannia, lank veur dat de Romeine da zo ginge noeme, Venta Belgarum was de naam van de hoofdplaats van de Britse Belgae, het huidige Winchester.
De Belgae waren in hoofdzaak van Keltische afkomst, maar ondanks dazze de Rijn als grens verdedigden, hadden ze een gedeeltelakke Germaanse afkomst.
Julius Caesar schatte dat de Belgae (ùp het vasteland) ongeveer 110.000 krijgers hadde, da zou kunne betiêkene dat de totale bevolking op over het half miljoen mag geschat wörre.
De Belgae waren verdeeld in verschillende stammen.
Kleinere stammen:
Stammen in Brabant en rond Antwaerpe
Edit
Hoewel er giên geschreven informase over de stammen veur de Romeinse inval bestaat, is ét wel meugelak ùm te reconstrueren welke stammen er leefden rond Aentwaerpe en in het gebied dat later Brabant zou wörre.
de Menapii die in en rond de delta's van de Schelde, Maas en Rijn leefde maken de grutste kaens oem het westelakke gebied t'emme bewoênd en dus waar nau Aentwaerpe leêt
In Brabant
de Eburonen oostelijk van de Menapiërs en de Atuatuci , in de kempen, en over Maas tot on de Rijn diêlden ze het gebied met de Treveri; later name de Germaanse Tungri hun plöts in)
de Atuatuci tussen de Nerviërs en de Eburonen
Literatuur
Edit
* Ugo Janssens, ''De Oude Belgen'', Antwerpen (The House of Books), 2007.
Externe link
Edit
* [http://www.bruxel.org/zinneke/2008_zinnewater/zinnewater_text/belgae_water.html Etymologie]
References
Edit
↑ Zie ook de nederlandse vertaling op Wikisource
[[Categorie:Gallische stam]]